Selecting an assessment tool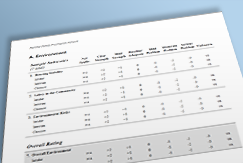 Step 1
Preview the sample materials and select a package for your agency.
Please note that NFPN does not offer the complete tools or training packages for preview purposes.
---
Step 2
Determine how many staff will be using the tools.
The cost of the tools is based on the number of users.
We do not ask agencies to give us the names of the individuals who are on their license. Your license would be for the number of staff who are using our tools at any given time. In other words, you do not need to add more users when you have turnover, as long as you stay within the number on your license. You would need to purchase additional licenses if your number of users increases. We also ask agencies to ensure that employees do not take the tools with them when they resign.
---
After submitting the form, you will receive a price quote by e-mail. Your price is not final until you place your order and you are invoiced.
---
Step 4
Reply to the price quote e-mail when you are ready to purchase.
Payment methods include check, wire transfer, PayPal, Visa and MasterCard (3% processing fee is added to credit card purchases over $1000).  Payment is due within 15 days of being invoiced. 
---
Refund Policy
All invoiced sales are final. No refunds.
---
Delivery Options
In order to cut costs and save our customers money, NFPN provides paperless delivery. Once your payment is processed by the bank, the materials will be sent to you via email in a secure web link along with your agency's license.
---